Description
Most dogs will appreciate a coat when walking in inclement weather, but some may require a little extra protection.
Typical dog coats and sweaters usually have a poncho-like design, which shields a dog's back, neck, and head, but some coats also feature legs, which will help keep your dog's lower extremities warm and dry.
But some coats with legs are better than others, so it is important that you compare the various options carefully, and pick one that will work well for your pup.
Do Dogs Really Need Coats?
Some dogs were bred to live in the coldest and wettest weather Old Man Winter can throw at them, so coats aren't always necessary. For example, huskies, malamutes, sled dogs, and similar, long-haired, double-coated breeds will usually remain comfortable even when snow covers the ground.
But, most other dogs can become chilled when the mercury falls, and they'll appreciate a little extra insulation during winter walks. This is especially true for short-haired breeds and those without an undercoat like boxers, beagles, and pit bulls. However, coats are most important for small dogs, who are particularly susceptible to the cold.
Even if the temperatures in your area don't plummet terribly far during the winter, you may want to provide your dog with a water-proof coat if rain is common. Wet dogs can become chilled very easily, so it is always a good idea to keep your dog dry while going for walks.
Size Chart:
| | | | |
| --- | --- | --- | --- |
| Size | Neck(cm/ inch) | Chest(cm/ inch) | Back(cm/ inch) |
| S | 26 cm/10.24 inches | 30-35 cm/11.81-13.78 inches | 27 cm/10.63 inches |
| M | 30 cm/11.81 inches | 35-40 cm/13.78-15.75 inches | 32 cm/12.60 inches |
| L | 34 cm/13.39 inches | 40-45 cm/15.75-17.72 inches | 37 cm/14.57 inches |
| XL | 38 cm/14.96 inches | 45-50 cm/17.72-19.69 inches | 42 cm/16.54 inches |
Size

Neck(cm)/inch

Chest(cm)

Back(cm)

3XL

48 cm/18.90 inches

68 cm/26.77 inches

48 cm/18.90 inches

4XL

52 cm/20.47 inches

73 cm/28.74 inches

53 cm/20.87 inches

5XL

56 cm/22.05 inches

78 cm/30.71 inches

58 cm/22.83 inches

6XL

60 cm/23.62 inches

83 cm/32.68 inches

63 cm/24.80 inches

7XL

64 cm/25.20 inches

88 cm/34.65 inches

68 cm/26.77 inches

1 inch=2.54 cm 1cm=0.3937 inch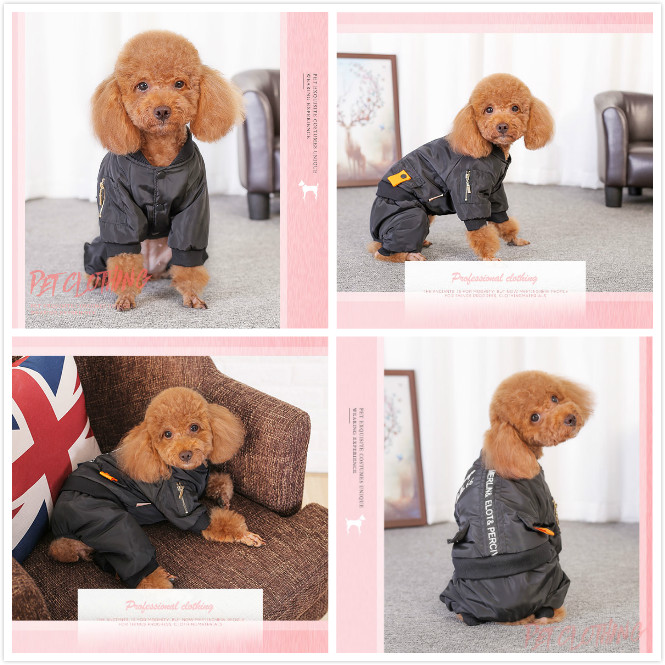 Specifications:
Size: S, M, L, XL, 3XL, 4XL, 5XL, 6XL, 7XL
Color: Black
Material: Polyester
Feature: Waterproof, Warm, Reflective
Style: Cute, Warm
Suit for: Small Dog, Medium Dog, Large Dog
Dog breeds: Labrador Retriever, German Shepherd Dog, Golden Retriever, Boxer, Standard Poodle, Rottweiler, Doberman Pinscher, German Shorthaired Pointer, Siberian Husky, Australian Shepherd, Chinese Shar-Pei, Dalmatians, Alaskan Malamutes, Samoyeds, Portuguese water dogs, Bullmastiffs, Bloodhounds, St. Bernard, Akitas, Belgian Malinois, Chesapeake Bay retrievers, Rhodesian ridgebacks, Collies, Basset hounds, Newfoundlands, Mastiffs, Bernese Mountain dogs, Doberman pinschers, Great Danes, Siberian husky, Boxers, Rottweilers, Golden retrievers, German shepherd, Labrador Retrievers, French Bulldog, Beagle, Poodle, Yorkshire Terrier, Dachshund, Miniature Schnauzer, Pembroke Welsh Corgi, Cavalier King Charles Spaniel, Shih Tzu, Boston Terrier, Pomeranian, Havanese, Shetland Sheepdog, Chihuahua, Pug, Maltese, West Highland Terrier, Shiba Inu, Bichon Frise, Papillon, Scottish Terrier, Miniature Pinscher, Cairn Terriers, Lhasa Apsos, Italian Greyhound
Tag: winter dog coat, dog winter clothes, best dog jackets for winter, warm dog coats, large dog coats for winter, dog shedding in winter, snowsuit for dogs, dachshund winter coat, chihuahua winter clothes, dog winter jackets, puppy winter coat